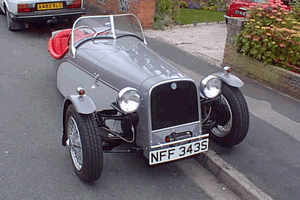 Although not really a racing car the DRK deserves a place on this web site.
The original idea for the car was formed between a good friend and myself and by the mid 1980's the DRK had forged its place in the kit car field, to the extent that by the end of our production run there had been 59 cars built, all of which are in good regular use.
The Story of D.R.K. Kits, by Keith Hamer
Unlimited enthusiasm, Limited production.
Way back in 1985 a good friend, Derek Callister, and I decided that after many years rebuilding, fixing, and generally messing about with cars of all descriptions, that we would build a car to our own design. This design was initially inspired by early post World War II racing cars, particularly the Tolbot Lago. We set about formulating a design brief to work from. This brief was subsequently changed several times before the car finally appeared, but to start with it was:-
Front wheel drive
Four cylinder water cooled engine
Separate steel chassis
Aluminium body
Two seater sports tourer
Having decided on the original concept the search was on for a suitable donor vehicle. Fortunately the search was not to take very long at all. At the time, Derek's father and his two partners ran one of the biggest car body repair shops in Ellesmere Port and it just happened that a Renault 6 was in for repair at that time. It turns out to be one of the only front wheel drive cars running an inline water cooled engine, so the die was cast. The next job was to find a suitable car to donate its innards to our project and to strip it down. We did it in one weekend. I remember, having taken the body off this elderly R6, we proceeded to thrash it round the workshop yard, - to test its potential of course! The suspension geometry was then duplicated on the workshop floor and we set about cutting lengths of 40mm by 80mm, 3.2mm box section steel to form the chassis. At this point we came across our first problem.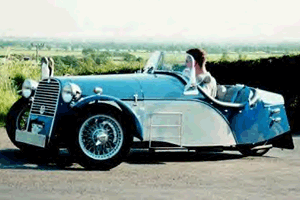 The R6 has torsion bar suspension, parallel with the chassis rails at the front and across at the rear. (Have you ever looked at Renault cars closely? The wheelbase of the offside is different to that on the nearside. This is due to the fact that the torsion bars run across the rear, one in front of the other.) A serious rethink was required if we were going to retain the torsion bar suspension. The answer came to us like a blinding flash. We would have 3 wheels on the car, that way we only needed to find room for 3 torsion bars. (Pretty good thinking we thought - not only does it mean that we only need room for one bar at the rear, but it was also cheaper to tax a 3 wheeler.) The truth is the design went a bit further than that because the torsion bar in the rear was substituted by a proprietary coil spring and damper unit, with the Renault 6 rear hub grafted on to our own radius arm. This finished off the rear.
The Renault 6 front suspension was fitted complete, along with the R6 1100cc engine, 4 speed gearbox c/w dash change and R6 steering box. This finished off the chassis. As the body was now for a three-wheeler, it almost designed itself. Taking styling cues from other three-wheelers the design we ended up with, I think, is quite sweet. It's a cross between a Morgan 'F' type and a B.S.A. constructed traditionally with a wood frame and aluminium panel work. The only concession to the 1980s being glass fibre cycle wings. From a very early stage Derek's dad, Bob, was enlisted into the project, not only as adviser and welder, but as body specialist and financier too. The first (and we thought only) car was finished in dark blue cellulose paint. When the project was unveiled at the Cheshire Kit Car show in May of 1986 it caused quite a stir. Everyone who saw the car fell in love with it in the same way as Derek and I fell in love with the original idea. From that point on D.R.K. (Derek, Robert, and Keith.) Kits did not look back. During the rest of that year, Bob Callister was badgered by numerous people to build them a D.R.K. and eventually it was decided that the first production D.R.K. would be made.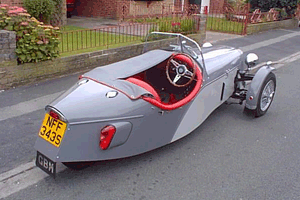 To this end we made some minor modifications to the original, taking the form of 1" extra in the width, height and length, together with a slight reprofile of the body line. D.R.K. continued in this way with D.R.K's being built in spare time alongside more mundane tin body repairs until 1990 when, having sold the business of Callister & Roscoe body repairers, Bob and his brother and long term partner, Brian Callister went into full production building D.R.Ks to order. As the production run went on, the cars were steadily developed. The most recent car to be delivered representing the present development. All cars were built to order and, although the basic specification remained unchanged, in all cases the specifics of the individual car were always for the customer to decide upon. It allowed total freedom of expression and a very individual car to be produced. All cars were finished to a very high standard and to an advanced state of build. Effectively all the customer was required to do was fit the engine and gearbox, to connect the water pipes, and fit brake pipes, etc. All cars left D.R.K. with a fully built and painted chassis, on which the donor car suspension was fitted, checked for wear and replaced if necessary, our rear arm and hub complete with damper/spring assembly, and all the suspension geometry was set. The body was fitted to the chassis and finished in cellulose paint in the customer's choice of colour. All trim was fitted again to the customers specification, complete with tonnaeu cover, and hood if required. The dash was covered in either wood veneer or leather cloth with all instruments supplied, fitted and wired in. All lights were supplied, fitted and wired in, a spare wheel carrier, windscreen, luggage rack, fuel tank, and brake line kit completed the package. D.R.K. Specification:-
Chassis - 40mm*80mm*3.2mm steel box section ladder frame chassis finished in chip resistant paint.
Body - Wood frame clad in 20swg aluminium. 18swg aluminium grille surround, bonnet, and rear deck, finished in cellulose paint.
Trim - All trim fitted, consisting of padded seat base and back, padded cockpit roll, side panels, tonnaeu cover, and hood.
Ancillaries - New wiring loom made up and fitted to the car, all lights fitted, (front headlights dip/full beam with side light, wing mounted indicators, rear stop/tail and indicators) instruments to customer specification fitted, steering wheel, hand brake c/w cable, radiator, brake pipes, and exhaust all supplied.
D.R.K. ceased production in June 1998, due to Bob and Brian taking well earned retirement, having produced 59 cars.
Keith...