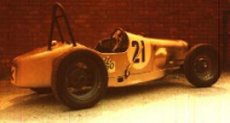 The first racing car built by Scholar Racing '96 was based on a 1936 Austin 7. The chassis was heavily modified to make it stronger in twist, which would allow the modified suspension to work properly.
The body style was designed to reproduce early Austin 7 specials. The car was first raced in this form at Mallory Park early in 1990's.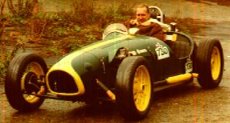 By 1995 the car had reached its final incarnation, the body style now being based on early 1950's styling of the iconic Rochdale Mk2. I had also found time to paint the car in the now familiar colours of Scholar Racing '96.
In this form the car was driven to several class wins in 1996 to finish second overall in the 750 Motor Club's 750 Trophy Championship, and take the Bert Hadley Trophy to boot.
The car is still occasionally campaigned in the 750 motor club's 750-trophy championship. In it's present form.