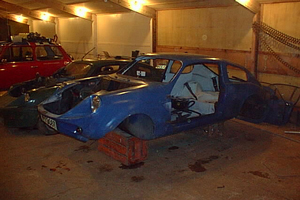 Make...
Marcos.
Model...
Mini Marcos.
Engine type and size...
1380cc Cooper 'S'.
Gearbox...
Cooper 'S'.
Brakes...
Front, Metro vented discs and 4 pot calipers.
Rear Super Minifin alloy drums.
Suspension...
Front, Modified Mini with negative camber bottom arms, adjustable tie rods, high lows, and Koni adjustable dampers.
Rear, Modified Mini with adjustable radius arm brackets, high lows, and Koni adjustable dampers.
Wheels and tyres...
KN minator (Minilite type) wheels with 165 / 60 13" tyres.
Exterior...
Blue and Yellow 2k paint.
Interior...
Race seats, full harness seat belts, roll cage, and minimal trim.
As with all or restorations this car was stripped to bare shell and has undergone a ground up re-build. Having restored the body shell our attention was focused on the front and rear sub frames and associated suspension. All the suspension components were either restored or replaced as necessary, before being built up into sub systems. Final assembly being done when the paintwork on the car was finished. Having produced a rolling chassis / body the wiring and instrumentation was fitted along with the FIA specification roll cage, competition seats, and full harness seat belts.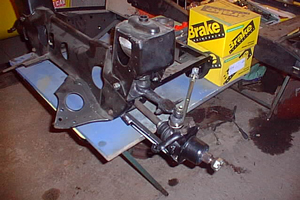 The engine was treated to a new set of bearings, gaskets, etc. before being fitted to the car. Fuel, oil, and cooling systems, lights, glass, etc. finish the job off. I think you will agree the result is quite spectacular, if a little 'in your face'.